SevenCs Wins Pilotage Safety Award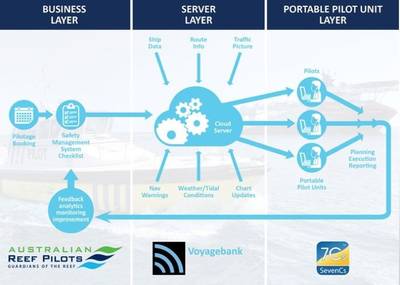 SevenCs together with Australian Reef Pilots and VoyageBank win the ' 2013 IHS Safety at Sea Award'.
Jointly with VoyageBank and Australian Reef Pilots SevenCs has won the IHS Safety at Sea Awards 2013 in the System category. The successful cooperation with these partners has resulted in a technology platform that combines portable pilot units (PPU), a cloud based PPU server and the Australian Reef Pilots Safety Management System (SMS).

The ORCA Connect, powered by VoyageBank combines the pilots to shore-based pilotage planning, monitoring and management systems in real time via the SevenCs touch screen PPU. Major advantage is the use of the PPU as central device for pilotage safety management, including access to procedural and operational information outside onboard navigation.

System integration of high level touch screen PPU technology with cloud-based operational information via a mobile internet connection is a major contribution to pilotage safety management and the integral requirement of future PPU technology which has made SevenC's proud to be partner in this Australian project, and to be the first to combine leading technology with PPU systems. This development is already the second integration project for SevenCs. A comparable touch screen PPU integration venture is in progress with German Pilots.

The IHS Awards this year are in their 7th edition and were held on board the HMS Belfast in London.

Based in Hamburg, Germany, SevenCs develops S-57 chart display Kernels for ECDIS, WECDIS and other maritime applications, ENC production and distribution software, and professional maritime navigation software.