Marine Plumbing Fittings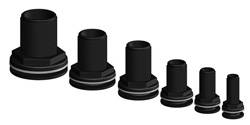 Tru Design, based in Auckland, New Zealand, is a supplier of composite marine plumbing fittings. All fittings are designed and manufactured in New Zealand and exported to over 20 countries worldwide.

The advantages of composite fittings over bronze / brass are well known in New Zealand and Australia where they have been the fitting of choice for over 20 years. Other markets around the world are now also discovering the advantages of glass filled (composite) fittings over traditional bronze and brass fittings. The result being Tru Design is being contacted directly by major boat builders in Europe and the United Kingdom.
The growing problem
The alarming frequency of brass/bronze ball valve/skin fitting failure in recent years has lately begun to hit the press. An issue often entirely overlooked by consumers, skin fitting or ball valve failure can have catastrophic effects. There have been cases of new and near new vessels which have taken on water or even sunk due to skin fitting or ball valve problems. Marine insurance companies are beginning to take note. The issue of skin fittings and ball valves has become a somewhat sensitive issue for some boat builders but is one they will have to face if they have not already. Hence, many large manufacturers are looking hard at composite fittings. If we look at history, we can see how the problem emerged. In the 1900's when pleasure and smaller commercial vessels were first manufactured, the hulls were normally made of solid planked timber and all skin fittings and ball valves were bronze. These original vessels had very few skin fittings, since even a toilet was considered optional.

As more and more fittings were needed to cater for on board luxuries such as toilets, showers and electrical pump systems, boat builders became increasingly aware of the problems caused by electrolysis. As a solution these fittings were then all wired together (bonded) to a common ground with a sacrificial zinc anode to be attacked by the electrolysis. Many now consider that bonding will in fact encourage corrosion. The problem with electrolysis is that it attacks a fitting from the inside, meaning the boat owner may have little knowledge of the creeping and hidden problem until a valve is turned for example – whereupon it falls apart.
Over the years as boats have become more and more sophisticated, with the addition of depth sounders, radars, electric toilets and anchor winches, for example, the amount of charge on these vessels has increased, so in turn the electrolysis issue has also increased.
Today's boats have also added air conditioners, inverters, gensets, 240 volts and another major change, shore power, with the ability to plug into 240 volt power on a marina. The marina environment of having boats moored in close proximity has exacerbated the problem of electrolysis, and low grade bronze or brass will be attacked first.

European authorities have tended to recommend bronze for fittings. More recently the old bronze fittings – especially skin fittings and ball valves, have been changed on many high volume production vessels to chromed brass. There has even been a disturbing number of cases where non marine grade brass has been found on vessels. Regulations only require 5 years of life for such fittings and it is largely left to the boat owner to check fittings are functioning properly after this period and then replace.

A lasting solution
Certainly in New Zealand it is well known that brass is not an option for underwater fittings. Brass can have less than a two year life in some situations and indeed even bronze has a limited life. When you also look at the development of boat building materials over the years the original solid planked wooden hulls have been replaced in most vessels with composite or resin based materials. New Zealand was first with the 'Plastic Fantastic' hulls in the America's Cup which proved that these new hulls could out sail the older heavier construction timber boats and also withstand the tremendous loads applied when racing.

A worldwide move towards composite fittings is therefore perhaps not surprising. All areas of boat construction are bound to evolve over time. Like composite hulls, which are a mixture of resin/glass fibre/carbon fibre, the composite marine range fittings offered by Tru Design are a mixture of resin/glass fibre/carbon fibre/glass bead depending on the tensile/impact strength required for different parts. The advantages of these glass reinforced composite fittings over brass/bronze are significant.

Most obviously, they do not corrode, they do not wear, and electrolysis is not an issue. They also have high impact and tensile strength and will withstand one minute of direct flame from an oxyacetylene torch. The initial cost of a composite fitting is currently more than brass, but less than bronze, and clearly composite fittings offer the best value given their much greater life span. Composite fittings also offer significant weight savings. The weight is about one 6th of conventional brass/bronze fittings – this is an important factor in modern boat design where more and more luxury items are demanded by the customer: this in turn can result in a boat that when launched does not float to its lines or achieve design speed: every gram counts. The weight of all Tru Design fittings is specified on their web site to enable naval architects to factor this into the boat design at the outset. Tru Design fittings are certified by IMCI (International Marine Certification Institute) to ISO 9093-2 standard for underwater use.