Polarled Extreme Depth Pipeline Contract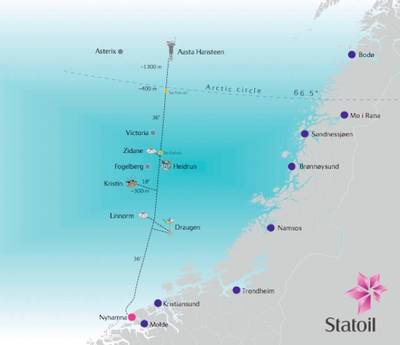 The Polarled-pipeline will export gas from Statoil's Aasta Hansteen field in the Norwegian Sea to the Nyhamna gas plant.
Statoil has awarded Marubeni Itochu/JFE the fabrication contract for linepipe to the Polarled project, while Wasco has been awarded the coating contract, and Allseas the pipe-laying contract. The coating contract includes the establishment of a new production base in Mo i Rana, Northern Norway.
"The Norwegian Sea is an exciting area on the Norwegian continental shelf. Polarled underpins this. Establishing new infrastructure increases the opportunities for the discoveries already made, and at the same time paves the way for further exploration and the development of future discoveries," says Rune Bjørnson, Statoil's head of Natural Gas.

Wasco is an internationally renowned supplier which has been keen to get to know, and make use of, multiple subcontractors from Norway especially those in Nordland county. These subcontractors will assist Wasco in the establishment phase of a brand new production facility for applying concrete coating in Mo in Rana, Northern Norway.

"Experienced local companies will provide services to Polarled such as goods from land, buildings, port services, construction, maintenance, logistics and raw materials for the production process. A requirement has been estimated for about 50 employees locally in Mo i Rana during the production period between now and 2015," says Statoil's Chief Procurement Officer, Jon Arnt Jacobsen.

The order for steel, valued at approximately NOK 2 billion, includes pipes, bends and buckle arrestors. Until pipe-laying in 2015, some 325,000 metric tons of steel will be produced for the 482 km long pipeline. The steel pipe will be 36 inch in diameter and will be laid at a maximum depth of 1265 metres, which is the world's deepest laying operation for this size of pipe.

The pipes will be shipped from the supplier in Japan to Malaysia, where flow coating on the inside and anti-corrosion coatings on the outside will be applied.

In addition, the pipes will be shipped to Mo i Rana for the application of a protective exterior concrete weight coating, before they are stored until installation in 2015. The coating contract is estimated at NOK 1.2 billion. Wasco will use existing buildings in Mo i Rana (Mo Industrial Park) to set up the factory for the concrete coating application.

The pipe-laying contract is valued at NOK 750 million, and preliminary engineering work has already started. A dynamic positioned laying vessel, without the use of anchors, will be utilised. Pipeline installation will commence by pulling in the pipe at Nyhamna in March 2015 and will be completed with lay down at Aasta Hansteen in Q3 2015.