AAM Wins LA Port Police Deal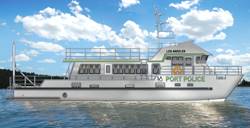 All American Marine won a contract by the Port of Los Angeles Harbor Department for a new dive and patrol catamaran. The 65' x 24' aluminum catamaran will be used by the LA Port Police dive team and will feature Teknicraft Design's signature hull shape and hydrofoil technology. The design of the vessel is based upon the previously built R/V Shearwater and R/V Fulmar, which are operated by NOAA throughout California's four National Marine Sanctuaries
One of the key functions of this multipurpose vessel is the ability to conduct oceanographic surveys within the port. By monitoring the seafloor, the LA Port Police can help ensure that America's largest seaport remains safe and operational. Lt. Michael Capodanno of the LA Port Police said, "We are really looking forward to receiving our new dive boat. It will serve as an integral part of securing America's largest seaport, which helps to keep our country's economic engine running".
The vessel's interior layout promises over 150 sq. ft. of wet and dry working space, a fully equipped galley, and comfortable dinette with u-shaped settee. The working deck layout will accommodate a hydraulically actuated A-frame, survey winch, and dive platforms. The propulsion package features twin Cummins QSM-11engines, each offering 705 bhp @ 2500 rpm. Delivery for the vessel is scheduled for mid 2012.