Texas City Oil Spill Update: Pollution Affects Coast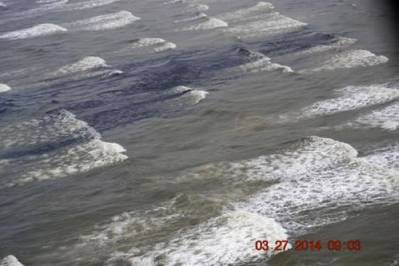 The Captain of the Port of Houston/Galveston opened the bay to all traffic Thursday after multiple cleanup assessments and input from the Texas Department of State Health Services. Oil is washing up on Matagorda Island. Coast Guard recruit volunteer 'Sentinels.
After storms Wednesday afternoon and evening slowed cleanup efforts somewhat in the Ports of Texas City and Galveston because of safety concerns, responders quickly ramped up their operations during the first hours of daylight to resume cleaning contaminated areas, Thursday.

The rough weather is expected to continue to subside throughout the rest of the week, and into the weekend, allowing responders to continue cleanup efforts. Mariners are also advised as they are transiting through the port to keep a watchful eye out for protective boom and other response equipment floating in their path. If found, please report the hazard to navigation to the Coast Guard on VHF Ch. 16.

A vessel decontamination plan has been formulated to assist vessels that may have been impacted by oil. The sites of the stations are Pelican Cut, Galveston and Bolivar. To schedule a vessel decontamination call (832)-244-1870.

Matagorda Bay
First oil washed ahore Thursday and the Unified Command for the Texas City Y Response is working diligently to clean affected areas and mitigate further landfall.

Oil spill responders from the Incident Command Post Matagorda in Port O'Connor, Texas, continued to implement their aggressive plans intended to protect environmentally sensitive areas of the Matagorda Bay area against impact from a portion of the oil spilled in Saturday's ship-barge collision near Texas City, Thursday.

The Coast Guard add that members of the public are discouraged from accessing the island until the Unified Command announces that response operations are complete.

Volunteer 'Sentinels'
Unified Command has approved the use of unpaid volunteers to conduct 26 miles of shoreline assessments. The "Sentinel" program will start Friday morning with an assessment of Galveston Island.

Volunteer Coordinators from the Galveston Bay Foundation and the U.S. Coast Guard Auxiliary have scheduled approximately 150 volunteers per day to seven Sentinel teams, each working three 4-hour shifts per day.

Each Sentinel team is assigned to a specific section of shoreline and beaches between San Luis Pass and the west end of Stewart Beach (or Ferry Road), a distance of approximately 26 miles that will be surveyed on foot over the next four days.

The volunteers will be trained by U.S. Coast Guard instructors how to identify different types of oil and wildlife using reporting tools developed by the National Oceanic and Atmospheric Administration (NOAA)'s Emergency Response Division.