Navy Rescue Fishing Vessel Crew, Prevent Guam Wreck Pollution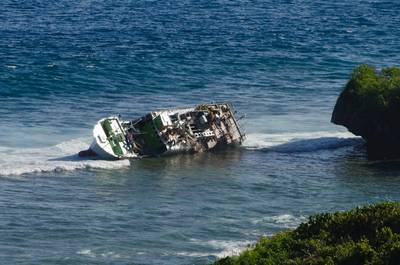 Sailors from Helicopter Sea Combat Squadron (HSC) 25 conducted a search and rescue operation and rescued 10 fishermen from a sinking commercial fishing vessel that ran aground in Apra Harbor near Spanish Steps, Guam. Subsequently Navy personnel removed environmentally hazardous materials from the wreck.

"Through the efforts of HSC-25 and the U.S. Coast Guard, we were able to successfully meet our first priority, which was to rescue the crew members," said Capt. Mike Ward, commanding officer of Naval Base Guam.

The U.S. Navy, in partnership with other federal and local agencies, then removed heavy oil, diesel fuel, and batteries from the grounded Japanese commercial fishing vessel Daiki Maru 7 in outer Apra Harbor.


Approximately 100 gallons of lubrication oil, 50 gallons of diesel fuel, 20 gallons of hydraulic oil and multiple marine batteries were safely removed significantly lowering the amount of major hazardous materials on board the grounded vessel. Divers also assessed the condition of the fiberglass diesel fuel tanks and determined that about forty percent of the total capacity of diesel fuel potentially remains on board. Environmental assessment teams on the shore determined that no sheen or residue has been found on the beaches near the vessel. 


"The on-site team reached an important milestone today by safely removing the majority of the heavy oils and other hazardous materials off the vessel" said Dennis Siler, Naval Base Guam Operations Manager. "Given the close proximity to a very environmentally sensitive area, today's operations ensure the materials that could do significant damage are out of the picture and allow us to focus on the less hazardous diesel fuel and the salvage of the vessel."


The unified command consists of representatives from Naval Base Guam, U.S. Coast Guard Sector Guam, Guam Environmental Protection Agency, and the responsible party. Other agencies that have been involved in all aspects of planning from the standup include Joint Region Marianas Operations, Naval Facilities Command Environmental personnel, the National Oceanic and Atmospheric Administration, Guam Fish and Wildlife Service, Cabras Marine and Osroco.