Pollution Control Vessels Launched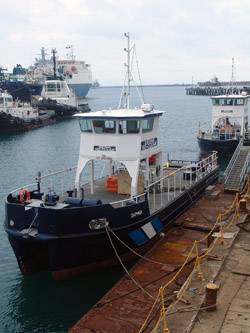 Three unique
pollution control vessels
have been launched in Dorset – with a fourth under construction. The vessels – three with Doosan engines and Westerbeke generators from engine and generator specialist WaterMota – are to be used for
oil spill recovery
in
South America
and West Africa. Build by Manor Marine for Desmi Ro-Clean, the steel Pollution Catamarans (Pollcats) – 19m, 15.5m and 12m - are designed to absorb oil or pollution working at a speed of up to five knots, with a speed when not working of at least nine knots in order to provide a rapid response and quick travel to incidents.
Andrew Nash, Desmi Ro-Clean Business Manager, explained: "Market awareness has risen significantly after the oil spill in the Gulf. Companies pay a lot of attention to response times so it was important to have enough power. "The engines were chosen as they are very easy to maintain for the owner – they can be trouble shooted very easily as there's not a lot to go wrong. Our customers don't want complicated engines with lots of electronics, they just want a good basic, reliable engine which goes."
John Tye, MD of MPI Services (UK) Ltd, trading as Manor Marine, added: "The Doosan powerpack engine is WaterMota designed and put together and works very well. One advantage of using WaterMota is that we can get everything from them – all the extras are included – even a tin of paint and are all good quality. Doosan used to be seen as a cheap Korean engine, it's now barking at the heels of the big three."
Each Pollcat has a traditional beam system recovery and is suitable for recovery or dispersement depending on the type of oil spill. Each vessel contains a 'mop' between the hulls working like a pipe cleaner to collect or deflect spilt oil, skimming equipment, recovery pollution tanks capable of holding up to 24 thousand litres in the bigger vessels and arms either side for dispersement spray depending on the type of oil which has been spilt.
A raised bridge provides a clear view over the oil spill and the steel structure of the catamarans means any potential repairs are easier to carry out than if the hull had been aluminium helping to make each vessel flexible in operation
and recovery.
The vessels also have a large open back deck and bunks and accommodation beneath the bridge house so the vessel and crew can stay out for longer periods. "They're quite unique as they have so much equipment on board. It is unusual to have so much on a vessel," added Mr Nash.
Designed for coastal operations, the vessels are good news for British exports he said. "These vessels are an excellent example of countries working together. Desmi Ro-Clean's head office is in Denmark, with offices in America, South America, Europe, Asia and the Middle East. We're using a British boat builder and sending
vessels all over the world. It's excellent for British exports."
Mike Beacham, WaterMota MD, added: "We have a very successful working relationship with Manor Marine – in the past 12 months we've supplied 16 engines to them. Doosan and Westerbeke products are very reliable and ideal for this type of vessel."