Polychem's Dispersit for Oil Spills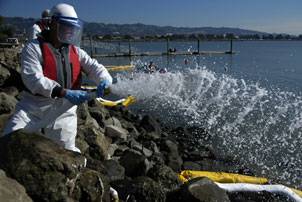 U.S. Polychemical Corp said that currently the oil spill in the Gulf of Mexico is being contained by the use of a chemical solvent that is potentially harmful to wild life. According to Polychem, its product, Dispersit, a water-based surfactant product used to clean up oil spills, has shown a significant reduction in the harm caused to both human and aquatic life. Dispersant products formulated with petroleum mineral spirits used as dilutents can be potentially harmful, the company claims. However, Polychem's Dispersit is a blend of water, water-soluble surfactants and a coupling co-solvent. It does not pose the threats that petroleum dispersants do to human health.

Polychem already has a partnership with the DfE (Design for the Environment) division of the EPA for a biodegradable solvent replacement product (Acrastrip) which is used in all paint and coatings markets including Military, general industrial, and automotive. Acrastrip is designed for cleaning paints and composite resins using non-hazardous and recyclable technology.

Polychem said BP has ordered a small amount of Dispersit for testing. Polychem is standing by for further orders from BP.
mbuck@bellsouth.net
561-432-7702