Popular Boat: Popular Engine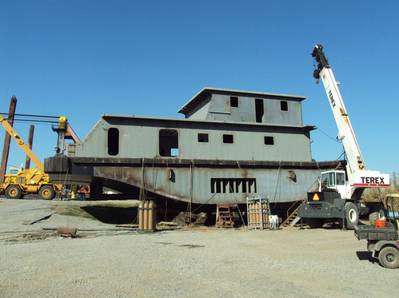 On the Mississippi and throughout the U.S. inland waterways, pushboats of about 70 feet and with around 2000 hp are ubiquitous.
They can be seen in barge fleeting operations along the riverbanks for pushing one or two 30,000-barrel oil barges. In recent years, the standard power package has been a pair of Cummins' popular KV38-M engines. These V-12-clylinder 2300-cubic-inch displacement engines have evolved over the years to take advantage of new technologies and, more recently, to meet new environmental standards.

Gary Eymard has been around the inland towboat world for some time also. His most recent boat is building on spec at his facility on the Ship Canal in Harvey Louisiana. He builds his hulls upside down and then flips them up on the bank beside the canal before putting the first two levels of deckhouse on. The wheelhouse, for his current 72x30-foot hull will have a 35.5-foot eye level elevation above the water. It will be added later.

With the seven-inch shafts in place before the hull was flipped, he will now add the two Cummins KV38-M main engines with their Twin Disc MGX5321 gears with 5.96:1 ratios. Before launching the 74x58-inch four-blade props will be added. Also added to the Entech and Associates-designed vessel will be the main and flanking rudders.

Calvin Klotz, Vice-President of the Marine Division of Cummins Mid-South reported, "In 2012 we sold a total of 230 of the legendary KV38-M engines to the off-shore and inland river markets. Of these, 170 engines went to 85 push boats. This was a record year for the Tier two compliant, 38-liter engine."

When Eymard's new towboat is ready for delivery in August of 2013, it will have accommodation for a crew of seven in four cabins. Tankage will include 18,100 gallons of fuel, 12,900 gallons of water and 820 gallons of lube oil. In addition to the mains there will be two 65 kW gensets. On deck there will be a pair of Patterson 40-ton barge winches.