Port of Hamburg Cargo Remains Below Last Year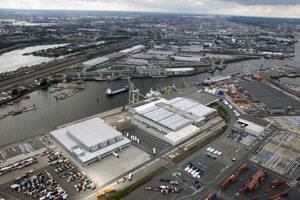 In the first half of 2009, the Port of Hamburg handled a total of 54.2 million metric tons of seagoing cargo. This represents a drop of 23.7 percent in comparison to the same period in the previous year. Port of Hamburg Marketing, the marketing organization for the Port of Hamburg, reported a volume of 30 million tons of imported cargo, 26.5 percent less than in the last year. Exports were hit less hard, with a total volume of 24.2 tons, falling only 19.9 percent.

An analysis of the major kinds of major seaborne cargo segments handled in Hamburg shows that general cargo, which makes up a particularly large share of the port's volume, declined sharply by 27.8 percent, amounting to only 37 million metric tons. Since the level of containerization for general cargo in Hamburg is about 97 percent, this drop affected container transport most of all. Germany's largest container port handled a total of 3.6 million TEU (20-foot standard containers) in the first half of 2009. This corresponds to a decrease of 28.7 percent compared to the same period in the previous year. However, the slump in cargo throughput had not yet begun in the first half of 2008, which brought Hamburg a volume of 5 million TEU and a growth rate of almost 4 percent. It was not until the second half of 2008 that the worldwide finance and economic crisis began to have massive effects on seagoing cargo transport. China is by far the leading trade partner for the Port of Hamburg, and Asia's high cargo volumes make it an especially important region for Hamburg. In the first half of 2009, Asian trade fell well behind the levels reached in the last year. The number of containers transported to and from Asia reached a total of only 2.1 million TEU (-25.1 percent). Hamburg is the leading container port for traffic to and from Asia and China. Since many of these containers are transshipped via Hamburg as an important feeder hub, particularly for the Baltic Sea region, the drop in this area had especially strong effects in connection with container volumes in short-sea transports. However, analysis of the various relations also shows some positive trends in the first half of 2009. Container transport to West Africa, not one of the top ten trading partners for example, reached a volume of 27,000 TEU and a growth rate of 7.5 percent. It is also worth mentioning that container traffic to and from India and Pakistan was only around five percent lower than in the previous year, making up 131,000 TEU.

Bulk cargo handling in Hamburg, which achieved a volume of 17.2 million metric tons in the first six months of this year, was not hit as hard by the global finance and economic crisis as general cargo was. It fell by 13.1 percent. Suction cargo, for the most part grain for export, even showed a positive growth rate of 38.6 percent in this period, increasing to 4.1 million tons. Liquid cargo, with a volume of 7.1 million tons, registered only 1.1 percent below the comparable level in 2008. In interpreting the cargo statistics, Claudia Roller, Port of Hamburg Marketing's chairperson, pointed out that the comparison between the half-year figures of the two years gives an incomplete picture. The first six months of 2008 were still a period of growth, while cargo volumes in the first half of 2009 were strongly affected by the impact of the world economic crisis.

Claudia Roller commented: "Despite the negative results, the cargo volumes in the first half of 2009 give us reason to be optimistic, since our assessment is that we have hit bottom and cargo handling in the seaport has become generally stable." Claudia Roller expressed confidence, saying, "We are expecting a positive trend in seaborne cargo volumes in the second half of the year. According to the monthly data that we have, we can see that there has been a small gain in container transport since the month of April and up through June and that the downswing has been stopped. We have also been receiving positive signals from representatives of industry and trade as well as from leading managers in the transport and shipping businesses at our port and trade fair events at home and abroad." Hamburg is Germany's largest seaport, and with its function as a hub for worldwide foreign trade it is closely tied to developments in the economy and the flow of goods. Since it is an universal port that handles all kinds of cargo, the port's business is diversified among very many different kinds of goods and is closely linked to various economic regions throughout the world.

The City of Hamburg, the port businesses, and the Hamburg Port Authority (HPA) are continuing to focus on keeping the port equipped for future growth and are carrying on with expansion efforts.