HATLAPA Acquires Triplex AS, Extends Portfolio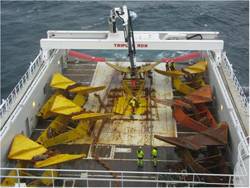 Hamburg-based manufacturer HATLAPA Marine Equipment has purchased a majority shareholding in the Norwegian deck machinery company Triplex AS. In doing so HATLAPA's traditional product portfolio of compressors, steering gear and winches has now been significantly expanded to include all components of a typical deck machinery package for supply vessels and AHTs.
With oil and gas exploration and production taking place in deeper and deeper waters the requirements of support vessels is developing significantly and with it the need for more sophisticated and automated equipment. This is in addition to the growing demands of wind farm support vessels.
"We are now in a position to deliver everything from winches and remote controlled gantry cranes (Multi Deck Handler – MDH) with manipulator, to stern rollers – basically all the deck machinery you need", comments HATLAPA´s Managing Director Alexander Nürnberg. The Norwegian company is the global market leader for anchor handling systems, buoys and ropes on board ships. "Our companies complement each other totally – it's a perfect fit!", says Alexander Nürnberg who will be Chairman of the new subsidiary.
Triplex AS has 70 employees, based in the small North Atlantic town of Averøy near Kristiansund and has an annual turnover of 30 million Euro. In addition Triplex AS has a site in Chile, with 17 employees.
Not only does its product portfolio fit in nicely with HATLAPA, its structure and company philosophy are also very similar. Founded in 1933 under the name of "Bjørshol Mekaniske Verksted", and renamed "Triplex AS" in 1996 when it became a public company, Triplex AS has been run for many years by four managing directors. Their aim was to find an investor which not only had a good understanding of their business but also provided the opportunity for expansion of their business.