Massive Quay Cranes for PortSynergy / Eurofos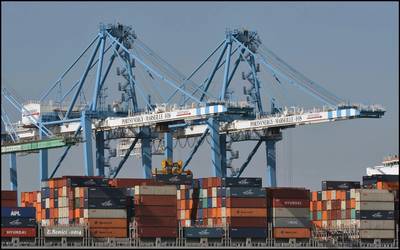 PortSynergy / Eurofos have purchsed a set of massive quay cranes, reportedly the largest in the world, becoming the first container terminal to operate cranes of this size.
Two cranes 54 meters high with a 72 meters outreach manufactured by Paceco España will be mounted in situ on the PortSynergy / Eurofos terminal in Fos-sur-Mer near Marseille. Crane erection will begin in February 2016 with a view to commissioning in September / October 2016.
The acquisition of these quay cranes will provide Fos-sur-Mer with the capability to process all types of vessels, currently in service or under construction, regardless of their size.
According to Nicolas Gauthier, CEO, "By means of its massive investment, the company PortSynergy / Eurofos contributes to the modernization and development of the port of Fos-Sur-Mer, and beyond, to the recovery of the French economy."
These two new quay cranes complement the PortSynergy / Eurofos company's extensive investment program of over 100 million euros on its terminal at Fos-sur-Mer. The PortSynergy Projects Group, leading container terminal operator in France, has invested heavily in the ports of Le Havre and Fos-sur-Mer to support the revival of French ports.