Petrobas Brazil FPSO Ready for Positioning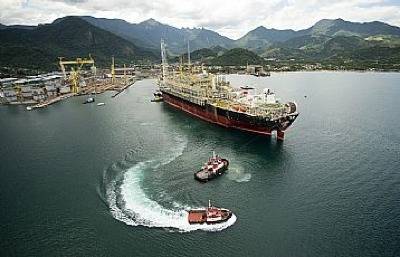 Fitting out of FPSO 'Cidade de São Paulo' completed at the Brasfels shipyard, in Angra dos Rei, Brazil.

Petrobras, alongside its partners BG Group and Repsol Sinopec Brasil, and by means of its affiliate Guará-BV, announces that the construction work for FPSO Cidade de São Paulo has been completed.

FPSO Cidade de São Paulo's hull was converted at the Cosco shipyard, in China. Module installation, assembly, and integration work got underway in early 2012, and was done entirely at Brasfels, in Angra dos Reis.

The unit will be deployed in the Sapinhoá field, in the Santos Basin pre-salt cluster, at a water depth of approximately 2,200 meters. FPSO Cidade de São Paulo's first oil is expected for January 2013, when it will be interconnected to the first well. The remaining wells, for a total of six production wells and five injector ones, will then be interconnected.

Capable of producing 120,000 barrels of oil and 5 million m3 of gas per day, this platform will be the first definitive production unit to operate in the Sapinhoá field, whose development project calls for yet another production unit, to come on stream in the second half of 2014.

The second production unit, FPSO Cidade de Ilhabela, has already been hired by the Consortium and is currently being converted.