'New Tango' Brings More Post-Panamax Ships to Charleston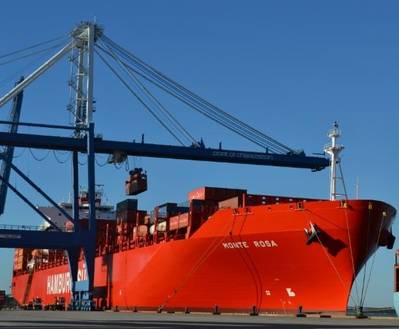 New service expands Port of Charleston's capacity to serve North-South trade

The SC Ports Authority today received the first ship call of a new consolidated East Coast South America service that brings additional post-Panamax vessels to Charleston.

The newly-formed "New Tango" weekly service includes Hamburg Süd/Aliança, Hapag-Lloyd/CSAV, as well as two carriers new to this trade in the Port of Charleston, NYK and Yang Ming. The deployment of larger ships in the service provides the opportunity for Charleston to grow container volumes in this trade.

"This service will increase the frequency of post-Panamax vessels calls Charleston, and with additional ship capacity we expect to boost our volumes in this important trade route," said SCPA president and CEO Jim Newsome. "Consolidations like the 'New Tango' reflect the importance of deepening the Charleston harbor to 52 feet in order to provide unrestricted access to our container terminals."

Top cargos on this trade with Brazil and Argentina include tires and auto parts, agricultural commodities, food products, forest products, manufacturing inputs and beverages.

All seven ships in the "New Tango" service are post-Panamax in size. The Monte Rosa, which arrived today at the Wando Welch Terminal, is approximately 5,550 TEUs. Prior to the development of "New Tango," Charleston received seven post-Panamax calls weekly.