Post-Panamax Coal Carrier Delivered to MOL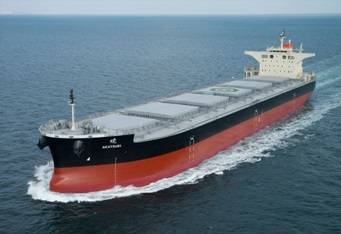 Mitsui O.S.K. Lines, Ltd. (MOL) announced the delivery of the Akatsuki, the first 104,000 DWT class Post-Panamax coal carrier, which was jointly developed with Sanoyas Shipbuilding Corporation and built at the Sanoyas Shipbuilding Mizushima Shipyard.

This new ship type was designed to optimize the transport of coal for power companies in Japan. MOL plans to add these advanced, efficient vessels to its fleet in succession.

Characteristics of 104,000 DWT class Post-Panamax coal carrier
The wide breadth and shallow draft configuration is ideal for loading/discharging at ports where draft is limited. The Type 104 is one of the largest coal carriers, which will be able to call at major power plants and coal storage facilities in Japan, maximizing discharging capacity.
The Akatsuki and its sister ships will feature the latest safety equipment and systems, such as mooring equipment that provides maximum mooring force.
The high-efficiency main engine and other energy-saving features minimize fuel consumption.
Type 104 vessels offer the most advanced environment-friendly specifications such as fuel tanks with a double-hull structure.
Vessel Particulars of Akatsuki
Length: 235 m
Breadth: 43 m
Draft: 14.4 m
Deadweight Tonnage: 104,939 MT

mol.co.jp