New Yanmar Powerboat Joystick Control System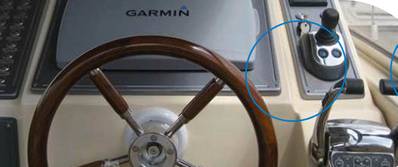 Yanmar Europe BV recently introduced what it claims to be the only hydraulic control system available for boats.
"With the introduction of the Yanmar Joystick Control System modern boating becomes even more comfortable", Wil Botman, Area Manager for the Marine Sales Department comments. "Superior comfort is realized by the combining the Yanmar Joystick Control System with the Yanmar ZT370 stern drive with hydraulic clutch and the vibration-free Yanmar V8 Diesel.
Parallel docking or docking in tight spaces, for example, is now extremely smooth and easy, just as diagonal movements or 360° turns are. Boats are easily rotated within their own length. The Yanmar Joystick Control System combined with Yanmar ZT370 Stern drives is superior to any other joystick system available on the market when it comes down to performance versus cost."
The Yanmar Joystick Control System is available for Yanmar 8LV engine models with 320 hp and 370 hp as twin installations in both leisure and commercial vessels. It is easily installed in new boats and is also quickly retrofitted to existing twin Yanmar 8LV installations. A connection to Autopilot systems of major navigation manufacturers is optional, ensuring even more advanced boating.

The system is covered by Yanmar's Global Service Network.

Among its main features are:
- Docking mode
- Boost mode

- Electronic progressive steering

- Sideways movement
- Diagonal movement

- 360° turn (rotation within a boat length)

- Optional second and third station