Wärtsilä New LNG Powered PSV Order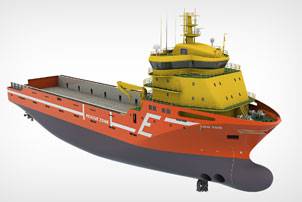 Wärtsilä has received an order for Liquefied Natural Gas (LNG) Platform Supply Vessels (PSVs). Norwegian operator Eidesvik Offshore has placed an order for its fifth gas PSV. All Eidesvik's gas PSVs, including this latest order, are designed by Wärtsilä and utilize Wärtsilä's unique dual-fuel technology. In addition to the complete design of the vessel, Wärtsilä's scope of supply for the new PSV includes the dual-fuel main engines and generating sets, the electrical power and propulsion system, integrated automation, and the power management system. The vessel will be fitted for use in arctic waters with 'winterization' and de-icing solutions, and is to be built at Kleven Verft in Norway.

The new Wärtsilä VS 489 Gas PSV design represents a state-of-the-art vessel. It features outstanding energy efficiency, a unique hull form, fuel flexibility, and outstanding vessel performance in areas such as fuel economy and cargo capacity. The Eidesvik orders include a unique configuration of the gas electric propulsion system. This is based on a combination comprising the Low Loss Concept for Electric Propulsion, the Wärtsilä 34DF main engines, and the recently introduced Wärtsilä 20DF engine. The dual-fuel units enable, in addition to heavy fuel oil (HFO) and marine diesel oil (MDO), the use of gas as a main fuel for marine applications. Wärtsilä's ability to offer total concept solutions that include the design of the vessel, the propulsion plant, electrics and automation, and a host of fuel saving and environmentally sustainable options, has given the company a notable competitive edge - particularly in the area of specialty vessels such as Gas PSVs.

The Wärtsilä 20DF engine is the latest addition to the company's complete portfolio of dual-fuel engines. This technology offers the marine sector numerous benefits, including the primary advantage of having the flexibility to utilize different fuels. At a time of uncertainty in the cost of liquid fuels, and as environmental legislation becomes increasingly stringent, this flexibility enables the use of cost-efficient and environmentally friendly LNG as the main fuel. In case of interruption to the gas supply, Wärtsilä DF engines automatically switch to diesel mode operation without any loss in speed or power output. Single fuel installations obviously lack this additional level of operational safety.