Powerful Tugboats Speeded FPSO Delivery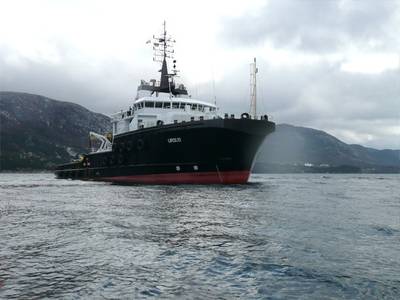 To reduce the transit time of the large FPSO 'Papa Terra' from the Far East to Brazil, AHT 'Uranus' & AHT 'Janus' were engaged.
BW Offshore and their end-client Petrobas called on Alp Maritime Services to advise on what strength bollard pull would be required to reduce the projected delivery voyage time of the new FPSO if undertaken under its own power.
Towage engineering performed by Alp indicated that the transit from Singapore to Brazil could be cut with nearly 8-10 days, provided that the towing vessels used were of sufficient capacity to generate sufficient pulling force beyond the expected transit speed of the FPSO when using her own propulsion.

The outcome of the engineering study proved that the vessel's required should have well over 200 tonnes of bollard pull and have a speed of approximately 15 knots.

This being the case, large vessels in the Harms fleet, which is marketed by Alp, matched the specification, and they consequently contracted the 285 tonnes bollard pull AHT Uranus, and the 220 tonnes bollard pull AHT Janus to do the job.