VULKAN Drive Tech to Exhibit at Power-Gen Europe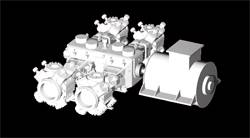 VULKAN Drive Tech, a division of the international VULKAN group, and a specialist in industrial drives, will be an exhibitor at the Power-Gen Europe event, which is being held from 12th – 14th June in Cologne.

The technology leader, based in Herne, will be focusing at the exhibition on couplings and brake systems for pumps and compressors in the oil and gas sector, for motors and drives in the power generation sector, and for drives in the segment of renewable power generation
such as, for example, wind energy plants, pumped storage and hydro power plants. Pumps and compressors are at the core of many industrial plants in the oil and gas sector. Therefore, their efficient and fault-free operation is of prime significance for the availability and efficiency of the entire plant. Flexible couplings are used in most pump and compressor drives in order to keep the stress on the drive chain resulting from damaging vibrations to a bare minimum and thus, to enhance their service life. Elastomer couplings of VULKAN Drive Tech compensate radial, axial and angular shaft displacements of the connected machinery. The torque is transmitted by elements loaded in shear. The different torsional stiffnesses and damping factors available provide the possibility to satisfactorily tune the torsional vibration behavior of the drive system.

VULKAN Drive Tech offers a comprehensive range of products for pumps used for liquid and gaseous media as well as compressors for portable and stationary applications. For high-power drives with a rating of more than 1 MW, as they are deployed, for example, in large compressors, it is recommended that the highly elastic couplings of the VULKAN RATO – series be used. The RATO S, RATO R and RATO DS – couplings are torsionally flexible elastomer couplings that compensate the radial, axial and angular displacements of the machines connected. The torque transfer of the couplings is ensured by the elastomer elements. As a result of the different torsional stiffnesses available, it can be ensured that the response of the drive system is matched optimally to torsional vibrations. The coupling consists primarily of the highly elastic element, the membrane part and the connection components. The torsionally flexible part is formed with the help of elements that may be arranged in one or more rows depending on the size and stiffness level.