Pre-Engineered Fire Systems; Safe and Unique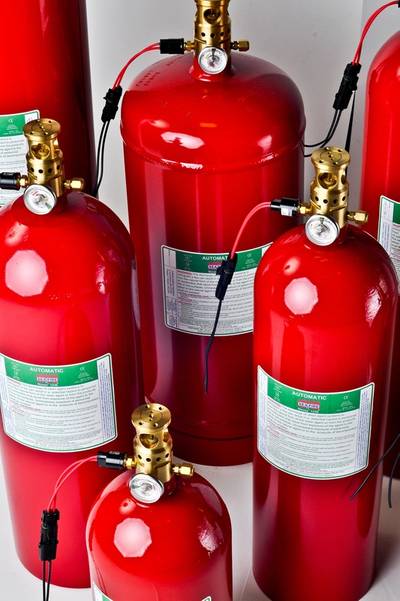 Enclosed compartments containing flammable materials require fire extinguishing technology that activates instantly and safely. Sea-Fire's pre-engineered NFD and NFG systems are automatically heat-activated, using 3M Novec 1230 Fire Protection Fluid.
This non-toxic agent is the safest on the marine market, with zero ozone depletion and an extremely low Global Warming Potential (GWP) of just one. Sea-Fire's pre-engineered systems protect areas from 25 cu. ft. up to 1,800 cu. ft., such as engine compartments, electrical control rooms, generator areas, paint lockers and lazarettes. Each of the easy-to-install systems come complete with marine-approved brackets, a system status indicator light with faceplate and owners installation manual.

While all NFD and NFG models operate automatically with heat sensor valves, all can be equipped with a manual discharge capability. Sea-Fire's pre-engineered series systems include a factory-installed pressure switch that can be used to monitor system discharge and other functions, such as activation of engine shutdown systems and air exchange equipment. Novec 1230 works by removing heat energy at the molecular level to the point where fire cannot be sustained. It has the highest heat capacity of any commercially available halon alternative, is electrically non-conductive and non-corrosive. Additionally the product vaporizes quickly during the system discharge. Unlike messy foams and powders, the extinguishing agent is clean, leaving behind no residue.
Novec 1230 certifications include RINA, DNV, USCG, ABS and all major international approvals. Available worldwide with no environmental restrictions, 3M backs its product with a unique 20-year Blue Sky Warranty. More details on the Blue Sky Warranty are available from Sea-Fire. www.sea-fire.com.