Marion Bermuda Revises Preliminary NoR, Issues SI's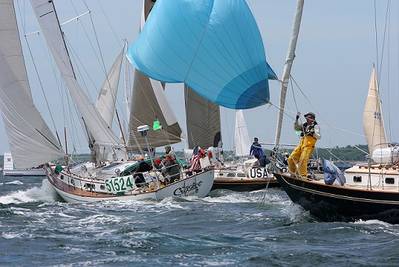 The preliminary Notice of Race (NoR) for the 2013 Marion to Bermuda Cruising Yacht Race has been revised and the Sailing Instructions (SI) dated April 26, 2013 have been approved and posted on Marionn Bermuda's website, www.marionbermuda.com.

The most recent version of the Notice of Race is dated April 24, 2013. In this NoR revision, the Racing Rules of Sailing (RRS) edition governing the race are updated from RRS 2009-2012 to RRS 2013-2016 and the first warning signal for the June 14 start in Buzzard's Bay off Marion, MA is changed from 1,130 to 1,200 EDT.

The Sailing Instructions contain a number of changes from the 2011 version. Skippers and crew should read the 2013 race documents very carefully to make sure they are on the same page as the race committee.

When asked if there are changes in the SI's from the 2011 race, George Gardner, who is the Executive Committee member in charge of Race Operations, replied, "In the main the 2013 SIs are very nearly the same as the 2011. However, there are quite a number of small changes because of the new divisions. For example there is a small change in starting times and several references to the RRS have changed. The course stays the same."

All participants and friends of the Marion Bermuda Race are reminded that the official Marion Bermuda Race Book is online in pdf format for all to enjoy. Click the cover image on website landing page or go to www.marionbermuda.com/archive/2013/racebook.pdf. The race book's 98 pages contain entertaining race stories, guides to the Marion area and Bermuda's sunny isles, tips on sailing this traditional ocean race, a preliminary land-event schedule and the preliminary Notice of Race (which has now been revised online).