Steelwork Preparation Specialists Open Minnesota Facility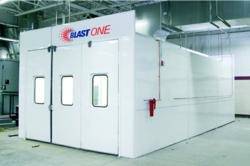 Blast-One industrial solutions for OEM, shipyards, steel fabrication, and machine & equipment refurbishing open new manufacturing division.
Ohio based Blast-One International recently opened its Blast-One Industrial Solutions (BIS) division centered in Burnsville, Minnesota. Blast-One Industrial Solutions (BIS) designs, manufactures, installs and commissions blast rooms, abrasive recycling equipment, abrasive recovery equipment, spray booths, dust collection systems, powder coating booths, curing ovens, and automated finishing systems.
Senior Technical Manager, Tom Chellberg, explains, "The targeted focus of BIS is a logical progression in the expertise Blast-One offers those in the protective coatings industries. With forty-three years' experience in consulting, designing, and providing solutions to the surface preparation and finishing industry , it was time a special division dedicated solely to those solutions was developed. "

Blast-One Industrial Solutions has proven most effective acting as a consultant to, and working alongside top companies in the industries of OEM, Shipyards, Steel Fabrication, and Machine & Equipment Refurbishing.

BIS is a subsidiary of Blast-One International and remains fully owned and controlled by the same owners as Blast-One International.