Water Jet Surface Preparation with Jet Edge's New Pump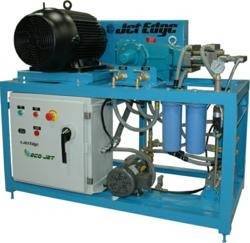 Jet Edge to show ECO-JET Waterjet Pump, & other mobile waterjetting tools at upcoming German expo.
During EUROBLECH, in Hanover, Germany in October next, Jet Edge will showcase several innovative water jet cutting and UHP surface preparation products, including its new 3800 bar eco-friendly ECO-JET direct-drive waterjet pump, its 6200 bar X-Stream waterjet intensifier pump, as well as Spyder portable waterjet cutting system and Gyra Jet LP waterjetting lance.
The 3800 bar 22kw Jet Edge ECO-JET waterjet pump features an efficient direct drive pump design that consumes up to 40% less electricity than a 37kw hydraulic intensifier pump, but produces the same output. The ECO-JET produces up to 3.78 L/m of 3800 bar ultra-high pressure (UHP) water for precision cutting, cleaning and surface preparation applications. It runs a .38 mm waterjet orifice and can power most manufacturers' waterjet cutting systems and waterjet tools.
Established in 1984, Jet Edge is a global designer and manufacturer of waterjet systems for precision cutting, surface preparation and coating removal.