Quigley Named President of US Fab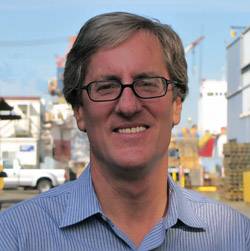 Kevin Quigley, who built VIGOR's Everett Shipyard into one of the largest dockside repair centers in the Pacific Northwest, has been named president of VIGOR's US Fab division. Quigley will oversee all of VIGOR's new ship construction including ferries, advanced Coast Guard cutters, barges, fishing and cargo vessels. As US Fab president, he also will direct the company's growing land-based and alternative energy fabrication projects. "The people who've built this company have been building ships for nearly a hundred years," Quigley said. "I'm looking forward to building on those past achievements with them and to building a great future together."
As the fabrication division of VIGOR Industrial, US Fab builds marine and non-maritime projects in its massive indoor and outdoor facilities in Seattle and Portland, Ore., with additional resources in other VIGOR yards across the Pacific Northwest. "Kevin and US Fab are moving VIGOR in exciting directions," said Frank Foti, VIGOR president and CEO. "US Fab is a key part of what we call 'industrial evolution' at VIGOR. We're maintaining and growing family-wage jobs by putting our welders and boilermakers and pipefitters and others to work on a wide variety of projects. We're expertly building not just ferries and boats and barges but also reaching into emerging markets like platforms to turn ocean waves and landfill gases into electricity."
Before assuming leadership of US Fab, Quigley was president and chief of day-to-day operations at Everett Shipyard, a VIGOR unit since February 2011. The Everett yard today is completing outfitting and at-sea tests of Washington State Ferry's newest vessel, the Kennewick, which was fabricated in VIGOR's Harbor Island facility in Seattle. The Kennewick will be turned over to the ferry system this fall, ahead of schedule. Quigley previously served as co-president of Gear.com and head of global business development for Teledesic, a satellite joint venture of Bill Gates and Craig McCaw. He has an undergraduate degree in political science from The George Washington University, a law degree from New York School of Law, and a Master of Laws degree from Harvard University. Quigley is an avid mountain climber.