Clarkson Research President to Keynote Marintec China 2013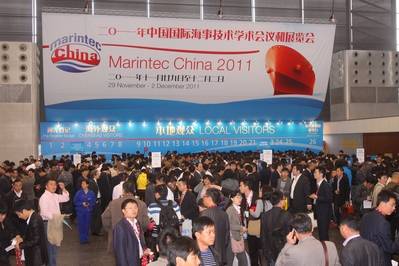 Dr. Martin Stopford, President of Clarksons Research Services, will deliver the keynote address at the Senior Maritime Forum 2013, 2-5 December, at the Kerry Hotel Pudong, Shanghai, China. The Senior Maritime Forum is held alongside Marintec China 2013 which takes place 3-6 December at the Shanghai New International Expo Centre, Shanghai China.
In his keynote address titled, "The Great Shipping Cycle -- Progress to Date and Scenarios for the Next Phase," Dr. Stopford will shed light and retrospect on the previous year industry milestones as well as offer audiences a perspective of areas, trends, and issues for the near and distant horizon.

Dr. Stopford is a graduate of Oxford University and has a PhD in International Economics from London University. During his 41 years in the Maritime Industry he has held positions as Director of Business Development at British Shipbuilders; Global Shipping Economist with Chase Manhattan Bank N.A.; Chief Executive of Lloyds Maritime Information Services and executive director of Clarksons PLC. In 2010 he received a lifetime achievement award at the Lloyds List Global Shipping Awards.
The theme for the Senior Maritime Forum 2013 is "Green Technology, Transformation, Breakthrough" and includes 40 sessions on Marine Equipment & Technology, Shipbuilding, Shipping and Port, Ocean Engineering, and Marine Finance. Dr. Stopford joins a line-up of maritime experts including Mr Peter Noble, President of Society of Naval Architects and Marine Engineers, Mr Alf-Kare Adnanes, Vice President, Technology Director of ABB Group Marine & Cranes, Mr Andreas Nordseth, DMA Director-General, Danish Maritime Authority, Mr Masamichi Morooka, Chairman, International Chamber of Shipping (ICS) & International Shipping Federation (ISF), and many more.

More information at: www.marintecchina.com