Port of LA Wins Presidential 'E Star' Award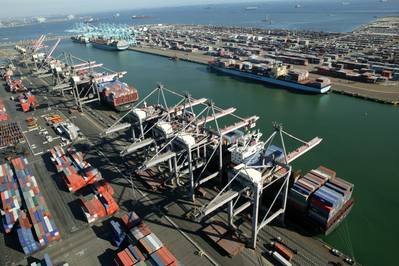 The Port of Los Angeles' Trade Connect program has earned the nation's highest honor for promoting American export trade.
The Port was among the 2013 honorees recognized for export sales or service during an "E" Award ceremony at the U.S Department of Commerce headquarters in Washington, D.C.

"I am delighted to be recognizing this year's Presidential 'E' Award winners for their outstanding contributions to U.S. exports and congratulate the Port of Los Angles on its outstanding export achievement," said U.S. Acting Secretary of Commerce Rebecca Blank, who presented the award. "It is organizations like the Port of Los Angeles that are strengthening the economies of local communities, creating jobs, and contributing to the worldwide demand for 'Made in the USA' goods and services."

"Trade Connect opens the door to foreign markets for small and midsize businesses in California and across the nation," said Los Angeles Harbor Commission President Cindy Miscikowski. "We are proud to receive this prestigious honor for doing our part to strengthen the U.S. economy and helping American companies of all sizes and their workers enjoy the benefits of international trade."

Trade Connect is an outreach program that offers a series of workshops to small and midsize American companies to educate them on the opportunities, costs and requirements of exporting their goods and services. Trainings range from introductory courses on the basics of commercial transactions, foreign markets, financing, documentation and logistics, to advanced seminars on international demand for specific products and emerging global consumer markets. Speakers include government experts and trade representatives from key federal, state and local agencies that promote and regulate trade. Professional associations such as the Los Angeles Customs Brokers and Freight Forwarders Association also provide expert speakers.


"Many smaller U.S. businesses don't know how to begin to access markets overseas," said Port Executive Director Geraldine Knatz, Ph.D. "We have now begun to track companies that have gone through our program and we've seen many success stories. We're proud to bridge that gap and serve as America's No. 1 'gateway' in every sense of the word."

U.S. companies are nominated for the "E" Award for Export Service through the Department of Commerce's U.S. and Foreign Commercial Service office network, located within the Department's International Trade Administration, which has offices in 108 U.S. cities and more than 70 countries, to help U.S. exporters. Criteria for the award is based on four years of successive export growth and case studies which demonstrate valuable support to exporters resulting in increased exports for the company's clients.