TDI Engine Start System Prevents Pinion Crashing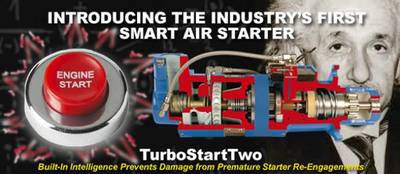 New integrated start system from TDI automatically prevents pinion crashing and over-speed cranking.

TDI's New TurboStartTwo is an Integral Start System featuring built-in control logic which prevents common types of starter damage caused by operators engaging the starter while it is in operation. It is designed for a variety of marine and workboat applications.
"The TurboStartTwo Smart Starter prevents operators from engaging the starter during coast-down," states TDI Director of Industrial Products, Dave Rawlins. "It is a great safeguard against ring gear and pinion damage from accidental operator error."
TurboStartTwo also automatically shuts off the air supply after successful crank and engine start, which preserves limited air supplies on critical fixed volume applications. TurboStartTwo even fits engines up to 110 liters.

TurboStartTwo is a completely integrated start system that includes 1) a powerful turbine air motor 2) built-in controls with pre-programmed safeguard logic, 3) a flow-match relay valve, 4) an electric solenoid, 5) an integral muffler, 6) both pilot air control lines/fittings, 7) a simple plug-in interface to your engine control. It even has an emergency manual bypass provision, allowing you to start just on air if necessary.

TurboStartTwo comes assembled in one box. It's ideal for OEMs and packagers installing it on new engines. By applying 3 bolts, plugging in 2 wires, and hooking up 1 supply hose, the start system is completely installed – often taking only about five minutes.