ONR to Develop App for Pirate Problems Etc.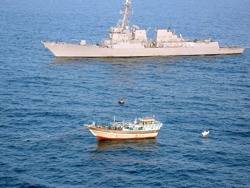 US Department of Defense will fund a project to develop web applications to help multinational navies police the world's oceans
The International Collaborative Development for Enhanced Maritime Domain Awareness (ICODE MDA) was one of 14 projects selected by the Office of the Under Secretary of Defense for Acquisition, Technology and Logistics to receive $1 million awards beginning this fall through the Coalition Warfare Program, which funds international collaborative research efforts.

The ICODE MDA project is a research alliance between ONR and Space and Naval Warfare (SPAWAR) Systems Center Pacific (SSC Pacific). ONR is partnering with scientists in Chile to build widgets, or Web-based applications, for use by sailors and maritime operators to analyze data and other information to combat pirates, drug smugglers, arms traffickers, illegal fishermen and other nefarious groups.

"A lot of maritime threats occur in developing parts of the world," said Dr. Augustus Vogel, associate director for Latin America and sub-Saharan Africa in ONR-Global's Chile office. "Our goal is to develop partnerships with countries that have maritime threats to help solve those problems."

ONR will tap researchers at the Technical University of Federico Santa Maria, one of Chile's top engineering schools, to create Web-based tools in an open source environment. The work will focus on producing software to improve automation, small-target detection and intent detection.

Ultimately, the software will be compatible with multiple maritime network systems so that navies around the world can use the tools and share information for global operations.