US Navy Awards Austal $18.5 Mln Procurement Deal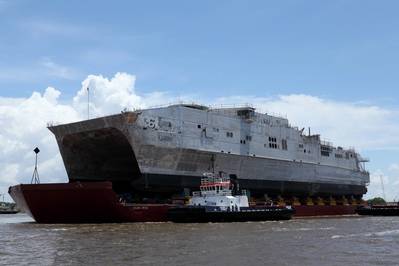 Austal USA announced it has secured a $18.5 million contract to procure long-lead materials for the 12th Expeditionary Fast Transport vessel (EPF) for the U.S. Navy, including main propulsion engines, generators, water jets, main reduction gears and other long-lead time items.
"This material procurement contract is further evidence of the Navy's unwavering support of the EPF program's continuing success,"
Austal USA President
Craig Perciavalle said. "We are excited about the feedback we're getting on the EPFs already delivered and in the potential this program has to be extended."
Austal's EPF program includes six ships delivered and three more under construction at its Mobile,
Ala. facility
. The 338-ft Spearhead-class EPF is currently providing high-speed, high-payload transport capability to fleet and combatant commanders.
Austal was awarded a $1.6 billion 10-ship block buy contract in November 2008 that initiated construction of the Navy's Expeditionary Fast Transport program.
The EPF's large, open mission deck and large habitability spaces provide the opportunity to conduct a wide range of missions – from engagement and humanitarian assistance or disaster relief missions being conducted today to the possibility of supporting a range of future missions including special operations support, command and control, and medical support operations. With its ability to access austere and degraded ports with minimal assistance, the EPF provides unique options to fleet and combatant commanders. EPFs have deployed around the world.
In addition to the EPF program, Austal is working under a contract worth more than $3.5 billion to build 11 Independence-variant Littoral Combat Ships (LCS). Three LCS have been delivered while an additional seven are in various stages of construction.