Despite Rising US Production, Saudi Crude Still Flows In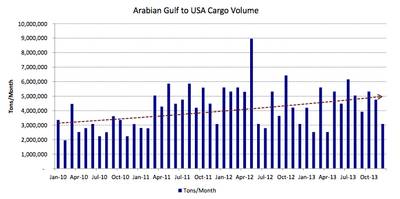 Reported spot market activity from the Arabian Gulf remains on an upward trend since 2010 in spite of rising US crude production, reports Poten & Partners' in their latest 'Tanker Opinions'.
Over the past few years US domestic crude oil production has supplanted foreign crude oil imports. To the extent that they possibly can, domestic refiners have shifted to local grades that have trended at an often significant price discount. Interestingly, however, fixture activity on the Arabian Gulf to US Gulf trade route remains robust.
In efforts to remain competitive, Saudi Arabia has priced US-bound crude oil at a discount compared to prices posted to Asian customers. The chart (pictured) represents total reported spot fixture volume from the Arabian Gulf to the US Gulf.

Citing information from EIA, Poten reports that Saudi Arabian exports to the US have followed a general upward trend since 2010. The drop in imports during the February to March time period appears to coincide with the refinery turnaround window in the US Gulf; normally between February and March. Crude inventory levels remain high in the US Gulf which has left the region short on spare storage.

It remains to be seen if exports from Saudi Arabia continue to follow this trend, but for the time being, demand seems stable for its crude in the US Gulf. If the US imports start to decline, demand could soften in the VLCC tanker segment as tankers make shorter voyages to the Far East.

Poten Tanker Market Opinions are published by the Commodity Consulting & Analytics department at Poten & Partners.