Port Manatee's Key Role as Drought Impacts US Corn Production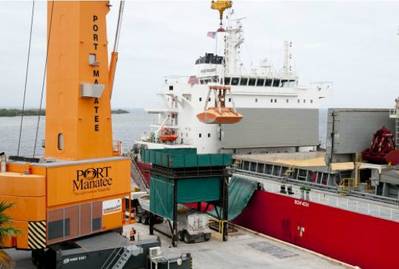 Tampa Bay, Florida, port receives cargo of Brazilian corn to offset draught-stricken US production shortfalls.

The 620-foot-long M/V King Fraser docks at Port Manatee to discharge more than 52,000 tons of Brazilian-produced corn to be used for animal feed.

In its Nov. 9 World Agricultural Supply and Demand Estimate report, the U.S. Department of Agriculture estimated the drought is impacting approximately 75 percent of U.S. corn production and will continue into 2013.

Cliff Arfman, vice president southeast at Interstate Commodities, Inc. explains: "We plan to provide the Florida feed industry a consistent source of grains free of drought-related toxins and we also have the capability to load rail shipments from Port Manatee throughout the U.S. via CSX Transportation. We are looking forward to a busy working relationship with Port Manatee, as we plan to bring in approximately 10,000 truck-load equivalents of corn through the port."

The shipment through Port Manatee is Interstate Commodities' first of at least four to meet U.S. demand.