Coast Guard Promotes Female Rescue Swimmer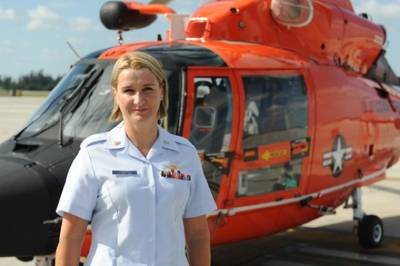 Chief Petty Officer Karen Voorhees is the first woman to be advanced to chief petty officer in the rate of aviation survival technician.
"In 1976 we had the first female graduate from aviation survivalman school. In 1986 we had the first female graduate from a navy rescue swimmer school. Twenty-seven years later we have the first aviation survival technician promoted to the rank of chief petty officer," said Capt. Joe Kimball, commanding officer of Air Station Miami.

"As of this morning, aviation survival technician was the last rate, of all the currently active rates in the Coast Guard, that had never had a female to the rank of chief petty officer," added Kimball.
Following the 'Marine Electric' sinking and loss of life, Congress acted on the hearing's findings and In 1984, directed the Coast Guard to "establish a helicopter rescue swimming program for the purpose of training selected Coast Guard personnel in rescue swimming skills." While there were many aviation rates already in the service, it was soon decided the aviation survivalman rating, already identified with sea survival, was the most easily transformed. As the transition took place there was many concerns raised, but the one that stood out the most was whether the new program would be open to women.
After much thought, the Coast Guard decided any physical fitness standards would be both "mission specific" and gender blind; meaning women who possessed the strength and stamina were as eligible as men to become rescue swimmers.

This milestone was put into perspective by Voorhees herself who spoke about raising young women who are "smarter and stronger." "I think that if we treated our girls with the same respect and initiative that we treat boys and expect them to live up to the standards we set them instead of lowering the standards for the girls to meet, I think we will do much better and I think we will have a lot more females in the military, in aviation, just running the world," said Voorhees.