New Seismic Survey Boat: NAMJet Waterjet Propelled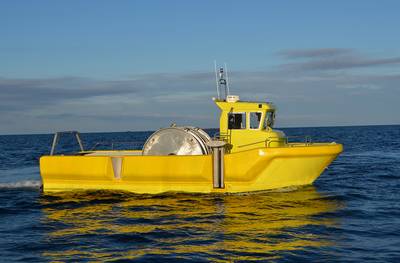 Norwegian shipbuilder Westplast AS chooses US-based NAMJet propulsion for its latest seismic survey vessel WP950.

Designed as a global support platform for oil and gas industry seismographic research, the WP950 will also be used for streamer cable replacements. The boat is powered by twin 295-horsepower (hp) Yanmar diesels paired to twin TRAKTOR® Jet TJ 381 (15-inch) waterjets capable of propelling the 31-foot, 15,653-pound (7100 kg) craft to top speeds of 28 knots. The vessel's TRAKTOR Jet propulsion system also provides 6,393 pounds (2900 kg) of Bollard Pull.
Initial design of the vessel began in September of 2011, and it was immediately obvious that Westplast's unique hull design and performance characteristics would require several custom modifications to NAMJet's TJ 381 propulsion platform. "The hull design required us to shorten the TJ 381s by six inches," said NAMJet General Manager Jim Ducker. "We also custom-designed a water pickup system, intake knife system, and shaft tube protection system. Finally, we added a grease-lubricated bearing pack that allows the system to be run even if it's out of the water," said Ducker

The first test vessel launched in October of 2012 to highly successful sea trials. The boat's initial success spurred an order for three additional boats, the first of which will be delivered in mid-January of 2013, with additional vessels following suit in February and March. Plans are also in the works for another nine vessels to be completed in 2013 and 2014.

"NAMJet's custom manufacturing capacity and design flexibility made them the ideal propulsion solution for the WP950," said Hallgeir Skorpen,
Westplast's Managing Director. "The boat has met with fantastic success thus far, and we look forward to great things from our partnership."