Coast Guard Sends SOS for Propeller Damage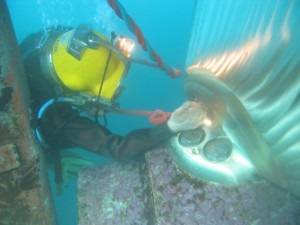 Sometimes even the Coast Guard needs help. As is the case with any other vessel in the water, Murphy's law applies in times of need.


While on patrol in the lower Caribbean Sea, the propeller sustained damage on all blades of the CPP propeller, requiring exchange. As the Coast Guard had spare blades available Subsea Global Solutions from Curacao mobilized to perform the underwater blade exchange. Utilizing a process developed specifically for these types of propellers, all four propeller blades were exchanged in one working shift. This required an efficient process of rigging, installing and retorqueing of these blades. Experts from the Coast Guard ensured everything was done in accordance with the approved procedure while they supervised the work. With OEM trained diver/technicians readily available to support this repair in the Lower Caribbean and the right equipment on site, Subsea Global Solutions efficiently executed this time sensitive and critical repair.