MAN Supply Dredger Propellor Blade & Nozzle Upgrade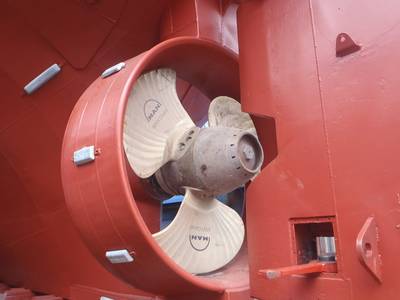 NCC-owned dredger benefits from recent PrimeServ exchange and modernisation of propeller blades & propeller nozzle – with payback time of just 1½ years
.

MAN Diesel & Turbo's PrimeServ division in Frederikshavn has, in close cooperation with shipowner and constructional engineering company NCC, performed a propulsion equipment upgrade for the 'M/V Baltic', a 900 m³ sand and gravel dredger.



NCC has a fleet of five ships and was, as a starting point, interested in the upgrade of the Baltic. The vessel, which was built in 1983, had – during many years of operation – suffered from propeller and aft-ship vibrations resulting in high noise levels in the accommodation. Eventually the nozzle broke loose from the hull.



In January 2012, the PrimeServ retrofit department in Frederikshavn entered a dialogue with NCC Chief Superintendent, John Jeppesen, on the design of new propeller blades and a new, customised propeller nozzle – with the priority being increased propulsion efficiency and fuel savings. The propeller-blade design chosen was a medium-skew blade profile for ducted operation with a MAN Alpha AHT nozzle – customised with a length/diameter ratio of 0.5. The new nozzle and blades were installed in April 2012 while the vessel was docked at Svendborg Shipyard, Denmark.


The financial aspect of the project has also proved very attractive for NCC with an estimated payback time of 1½ years.

MAN Alpha propellers cover a power range from 4 to 40 MW with fixed pitch and controllable pitch propellers in four and five-bladed executions. The propellers are designed and optimised for a vast number of vessels of different design and applications, from cargo vessels, ferries, cruise ships, offshore vessels, tugs and work boats to fishery and navy vessels.