New Propellor Design Software by HydroComp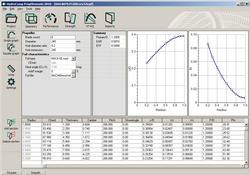 HydroComps latest software product, 'PropElements' helps propellor specialists to design & analyse propellors
PropElements is a new software product from HydroComp for detail propeller design and analysis. Propeller specialists will find it an essential addition to their propeller design toolbox, but it also was developed to elegantly address the system-level hydrodynamic needs of naval architects, as well.
Useful for both design and analysis, PropElements provides the ability to uniquely capture the performance of a particular propeller on a particular vessel. Users can prepare a noise-sensitive wake-adapted propeller design for a vessel, for example. Or analyze the behavior of an existing propeller.
Working with a ducted propeller? PropElements supports standard nozzle styles (such as 19A, 33 and 37). Users can also create custom performance files for special nozzle designs.
PropElements is a unique implementation of a vortex lattice lifting line code offering a fully-viscous, scalable solution made possible through HydroComp's experience in hybrid empirical-numerical hydrodynamics.
Data entry can be manual, or imported from PropCad, user's own software, or even spreadsheets. Output is provided in both reports and plots. A number of Import and Export options make PropElements an important companion for HydroComp's NavCad and PropCad software, as well as the perfect pre-processor for higher-order flow codes and CFD.