Deepwater Semi-Sub COSL Prospector Delivered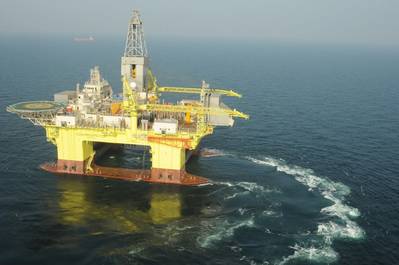 COSLProspector, the fourth deep-water semi-submersible drilling rig built by CIMC Raffles for China Oilfield Services Limited (COSL), has been delivered in Yantai, Shandong Province. It represents another milestone for China's deep-water drilling rig going into the global mainstream market.

The COSLProspector is a DP3 vessel with a length of 104.5 m, a width of 70.5 m, a height of 37.55 m, and an operating water depth of 1,500 m. It is able to drill 7,600m deep and has a designed operating temperature of minus 20 degrees Celsius. The rig is a multi-function platform, which has a maximum variable deck load of 5,000 t and is able to accommodate 130 personnel. It is classed by DNV GL and China Classification Society (CCS) and meets the strictest standards of PSA and NORSOK. This highly automated unit is equipped with 10,000 controllers and alerts and can therefore be monitored remotely.

The rig adopts the most advanced power management and environmentally-friendly design concept, and facilities, including a DP3 closed bus-tie, a variable frequency drive, an escape chute system and auto ice-cleaning technology. Compared with her three sister rigs delivered since 2010 (COSLPioneer, COSLPromoter and COSLInnovator), COSLProspector adds ICE-T, CLEAN and WINTERIZATION notations. Therefore it fulfils ice-class, environmentally-friendly and low-temperature requirements.

"The unit has complicated class notations. Its design and construction quality allow it to work in harsh environments such as the North Sea and the Barents Sea. COSLProspector represents the best quality in China offshore newbuilding", said Sun Guang, Yantai Station Manager at DNV GL.

COSLProspector is the seventh deep-water semisubmersible drilling rig built by CIMC Raffles. The yard has other four semisubmersible drilling units under construction, which will also be classed by DNV GL.

"With the delivery of COSLProspector, CIMC Raffles demonstrates that it has established significant capabilities and capacities for series production and bulk delivery of high specification drilling rigs. As a class society coming from the North Sea, we are very proud and happy to be actively engaged in the fast development of Chinese offshore industry", said DNV GL's Vice President and Regional Manager Torgeir Sterri.

He added: "Our ambition has been to contribute as much as we can by utilizing the competence and experience we have gained during the last decades through our involvement in the global offshore arena and in particular in the field of harsh environmental conditions. We will continue our endeavour to support our customers and partners in their pursuit of offshore engineering."