Protecting Migrating Whale Sharks off Mexican Coast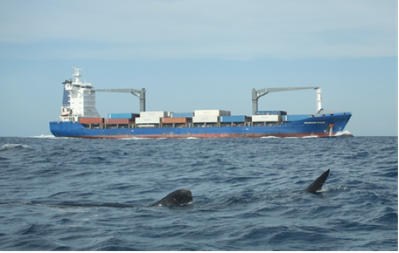 Mexican NGO "Ch'ooj Ajauil AC" (Blue Realm), American NGO Seacology and the scientific community, including Mote Marine Laboratory and Georgia Aquarium, have joined forces to urge a change in a traffic lane so as to avoid the risk of large vessels traveling through the whale shark migration path colliding with marine wildlife off the Isla Mujeres, Mexico. They expain as follows:
These vessels are not only endangering lives of tourists visiting the area but also the whale shark, the world's largest fish. All parties are working together to propose shifting ship traffic lanes to reduce the risk of collisions. High vessel traffic involving oil tankers and cruise ships have been documented traveling through the whale shark aggregation area as well as where manta rays, five different dolphin species, sailfish and sea turtles among other species exist.

There are also significant implications for the whole marine ecosystem in this zone, considering that from May through mid-September, thousands of tourists come for a chance to participate in an ecotourism adventure, by swimming along side and getting close to the largest fish in the ocean and threatened species, the whale shark.

"We are not looking to do anything radical. In 2007, NOAA and U.S. Coast Guard shifted ship traffic lanes in Boston Harbor to reduce the risk of collisions between large ships and whale sharks," said Biól. Rafael de la Parra Venegas, Executive Director, Ch'ooj Ajauil AC (Blue Realm). "We want to do the same – adjust the ship traffic lanes further away from these areas, to improve safety and reduce the chances of collisions with ocean life or with other smaller boats and tourists."

The interested parties propose:
1. Deployment of an AIS ( Automatic Identification System) allowing them to track every ship cruising in the zone. The antenna was set last July 17th 2013 on top of the observation tower in Isla Contoy, and is on test. 

2. Written notice to ship operators using the area, to request for a 10 mile deviation off East Isla Contoy, (ideally 12 miles), since sometimes they navigate within about 5 miles. 

3. Gather collaborative efforts from National and International Organizations, to participate in Ecosystem preservation and tourist visitor protection.