Piracy Protection Boat Launched by Zyvex Marine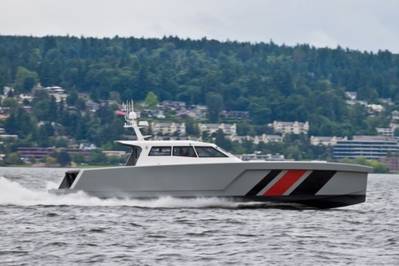 Zyvex Marine launches LRV-17 Long Range Vessel, the first to be constructed of nano-composite materials
Vessels of this design are to be deployed by private security firm for piracy protection off the coast of Africa.
The advanced Long Range Vessel is designed for fuel efficiency and rough sea stabilization with a sprint speed over 40 knots and a range of over 1,500 nautical miles, more than three times the range of comparatively sized vessels.
Global Maritime Security Solutions (GMSS), a leading maritime security company based in Dubai, will deploy the vessels for maritime security, including piracy protection, off the coast of Africa and surrounding areas. They plan to launch a merchant vessel convoy escort program by deploying security teams to operate two LRV-17s to protect ships en route.
The LRV-17 is built from Arovex®, a carbon fiber nano-composite system (carbon fiber reinforced plastic enhanced with carbon nanotubes or CFRP-CNT) that reduces structural weight, allowing for more efficient fuel usage and increased range. This is the first time nano-composites have been used as the primary material for a manned vessel.
The 17-meter (57-foot) vessel's deep-V hull is designed for fuel efficiency and uses an active gyroscope stabilizer for improved sea handling and decreased human fatigue factors. It is fully deployable with only two operators and can be equipped with an additional four shock-mitigating seats for support personnel, allowing six crew to remain at sea for over five days.
Zyvex Marine performed primary design and engineering, with secondary engineering, installation, and test analysis being performed by partners Pacific Coast Marine, S3 Maritime, Eltech Electric, Seakeeper, and Donald L. Blount and Associates.