Helly Hansen Revamps Protective Clothing Range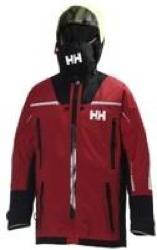 Ocean Jacket and Ocean Trouser garments re-built by Helly Hansen to offer maximum ocean safety, and comfort.
Technical clothing specialists Helly Hansen, has been working to protect the lives of those at sea for 133 years. Helly Hansen's water sports collection combines classic Scandinavian design and abundance of technical features for unrivalled warmth, dryness and protection whilst racing the rough seas.

For spring 2013, Helly Hansen has re-built the Ocean Jacket (SRP £750) and Ocean Trouser to offer maximum ocean safety, and comfort. Constructed with HellyTech's professional three-layer, quick-dry system, the three-quarter length Ocean Jacket is designed for the competitive sailor, offering unrivalled protection, with an extra high Polartec fleece collar, a fully adjustable EN-471 hi-visibility hood, and a stowe-away face visor.

The matching squall-proof bib, the Ocean Trouser (SRP £500) offers racers unparalleled storm protection for their lower extremities with its lightweight, durable, three-layer construction, featuring seat and knee reinforcements that have been manufactured to endure harsh conditions on the water, day in, day out.
Sailors seeking protection for offshore cruises and coastal racers will find style and warmth in Helly Hansen's three quarter length Skagen Jacket (SRP £300), featuring SOLAS reflective elements and a fully adjustable hood made of hi-viz fabric to increase visibility and safety in dark conditions.

The men and women's water-resistant, breathable, Crew Midlayer Jacket (SRP £100) completes the Helly Hansen three layer system, providing just the right amount of warmth with its zip fleece-lined collar and hand warmer pockets.