Marlink Provides Sealink to Fastnet Line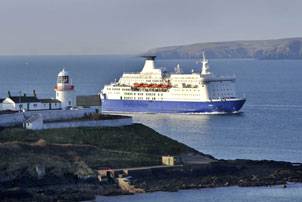 Marlink, provider of maritime satellite communications, has recently secured a new three-year contract with Irish Ferry Operator, Fastnet Line. As part of the new agreement, Marlink will deliver, install and operate its innovative Sealink VSAT solution onboard Fastnet Line's flagship vessel Julia, providing the ferry operator with high-quality, reliable bandwidth for vessel management, passenger and crew applications.

"In addition, Sealink(TM) will improve operational efficiency by strengthening communications between the vessel and head office ashore and enabling crew to effectively stay in touch with friends and family at home, improving crew welfare," said Owen Barry, Operations Manager, Fastnet Line.

Marlink's Sealink Ku-band VSAT will provide MS Julia with bandwidth up to 128 Kbps, as well as 10 simultaneous telephone channels and Administration LAN connected to an Internet VPN service. Providing Fastnet Line with exceptional value, the contract also includes Marlink's Prepaid Talk and Internet@sea services, which can be sold to passengers at Fastnet Line's own defined rate.

Based in Cork, Ireland Fastnet Line has recently introduced a new overnight route between Cork, Ireland and Swansea, Wales providing a quality cruiseferry experience direct to the South West of Ireland. Marlink routes its services to Fastnet Line through its own teleport in Eik in Norway, enabling the satellite communications provider to ensure high quality, reliable connectivity as well as exceptional flexibility of service.