N-KOM Drydock Receive First Qatargas Vessel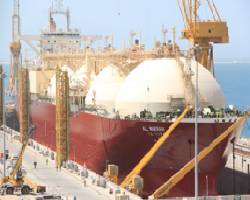 Nakilat-Keppel Offshore & Marine (N-KOM) has received the first Qatargas-chartered vessel "Al Wakrah" to dry dock at the Erhama Bin Jaber Al Jalahma Shipyard, Qatar's new, world-class offshore and marine hub at the Port of Ras Laffan.

"Al Wakrah", which is owned by a Japanese consortium led by Mitsui O.S.K. Lines, Ltd. (MOL) and managed by MOL LNG Transport Co., Ltd. (MOLLNG), will undergo general maintenance works such as main and generator turbine inspections, cargo pump overhauling, main switchboard and high voltage cargo switchboard maintenance, electric motor overhauling, main boiler cleaning, and hull painting at the Erhama Bin Jaber Al Jalahma Shipyard.

Backed by a highly-skilled workforce, N-KOM is well-positioned to undertake the repair, conversion and construction of a wide range of vessels and structures.

"Al Wakrah" was built in 1998 and can carry up to 135,300 m³ of LNG. Undergoing routine maintenance works at N-KOM, the vessel is expected to dock in the yard for 21 days.

Abdurrahman Mohamed Al-Mulla, Shipping Manager at Qatargas, said:

"Qatar's new, world-class drydock facility is an asset to us as it allows us to have an excellent maintenance facility close to our own facilities. This will help reduce the time required for carrying out necessary maintenance works; thereby saving valuable time and effort, and ensuring that we continue to be able to reliably and efficiently serve our customers with LNG in all four corners of the world."

Muhammad Ghannam, Chairman of N-KOM said:

"We are very proud to receive Al Wakrah, the second LNG vessel to undergo general repairs, overhaul, maintenance and inspection at the Erhama Bin Jaber Al Jalahma Shipyard. We are confident in meeting all expectations of the owner MOL and providing a safe, on-time and quality turnaround of this project."

Abu Bakar Mohd Nor, CEO of N-KOM, said:

"This is an important milestone in the partnership between N-KOM and MOL, and I am confident that there will be many more of such collaborations in the future. Working as a team, we will ensure the successful delivery of the LNG carrier 'Al Wakrah'. At N-KOM, we are committed to enhance our capabilities and track record in providing one-stop value-added services to Qatar's vibrant LNG market."

Shinji Ono, Fleet Manager of MOLLNG, said:

"MOL signed a letter of intent (LOI) with N-KOM for shipyard and drydocking services at its inauguration in November last year. Respecting this LOI, it is a great honor for us to have our 'Al Wakrah' as the first Qatargas-chartered vessel to visit N-KOM. As our partnerships with Qatargas and N-KOM continue to grow, we will build up our confidence in N-KOM to maintain our fleet as premium LNG carriers, which continuously contribute to the safe and stable delivery of LNG cargos from Qatar."

Notes:

* On 23 November 2010, Nakilat inaugurated its new, world-class offshore and marine hub at Ras Laffan port, the Erhama Bin Jaber Al Jalahma Shipyard, named in honor of a Qatari tribal leader who lived a century ago.
* Previously, there was a limited range of offshore and marine services in Qatar. With the Nakilat shipyard, ships operating in Qatar will no longer have to wait for drydocks to become available in Singapore, the UAE, South Korea or China for general maintenance works
* Nakilat's fleet of LNG carriers will take up just a quarter of the yard's repair and maintenance capacity at any time, leaving 75 per cent free for other vessels on a commercial basis.
* By 2020, some 4,000 ships are expected to call at Ras Laffan port every year.
* Established in 1984, Qatargas pioneered the LNG industry in Qatar. Today, Qatargas is the largest LNG producer in the world with a production capacity of 42 million tonnes per annum of LNG, from its seven trains – delivering LNG safely and reliably to it customers in all four corners of the world from it's first class facilities in Qatar. This makes Qatargas the largest LNG producing company in the world.