Cruise Ship 'Quantum Leap' for Meyer Werft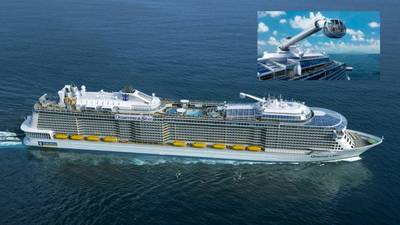 Royal Caribbean Cruises contracts for a third Quantum-class cruise ship to be constructed in the Meyer Werft shipyard.

The delivery is for mid-2016 and the price and terms of the new ship are similar to the price and terms of the first two Quantum-class ships, subject to financing conditions.

"We are excited to construct these tremendous ships to meet guests' demand for an exceptional cruise experience," said Bernard Meyer, managing partner Meyer Werft. Meyer continued, "And we are honored by our long partnership with Royal Caribbean, a true innovator in modern ship design."

Including this contract and existing ship orders, Meyer Werft say that projected capital expenditures for 2013, 2014, 2015 and 2016 are $700 million, $1.2 billion, $1.2 billion and $2.1 billion, respectively. Including Quantum III, the company's capacity growth rate from 2012 to 2017 will be approximately 4% per annum.

The yet-unnamed Quantum-class vessel will join the Royal Caribbean International fleet, alongside Quantum of the Seas, which will make its maiden voyage in 2014, and Anthem of the Seas, scheduled to debut in 2015.

Quantum ships span 16 decks, encompass 167,800 gross registered tons, carry 4,180 guests at double occupancy and feature 2,090 staterooms.

"We are creating a compelling experience for vacationers with innovative design, winning service, and appealing destinations around the world," said Richard D. Fain, chairman and chief executive officer of Royal Caribbean Cruises Ltd. Brian J. Rice, vice chairman added, "This order follows our stated goals of moderate growth, driving improved returns and leading to an investment grade rating."