Quark Expeditions Intros Ultramarine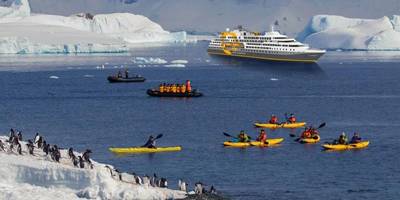 Polar adventures specialist Quark Expeditions is to introduce new livery on Ultramarine, it's latest expedition cruise vessel, which will debut in time for the 2020-2021 season in Antarctica.

The 200 passenger polar expedition ship is under construction at Croatia's Brodosplit shipyard. The 128 meter vessel is being built to a design by Sembcorp Marine's Bergen, Norway, headquartered subsidiary LMG Marin.

The renderings showcase new livery featuring Quark Expeditions' distinctive yellow "Q" logo spanning the full height of the ship, reflecting Quark's mission to go beyond the predictable, said a press release.

New interior renderings highlight Ultramarine's spacious suites as well as a range of striking public spaces, including the ship's main restaurant, panorama lounge, lecture theater, ready room, polar boutique, spa, sauna and fitness center.

"We are proud and excited to see the vision behind Ultramarine come to life," says Andrew White, president of Quark Expeditions.

"From the bold exterior to the comfortable, contemporary interior, our internal and external teams have come together to create a truly unique ship that will present unprecedented possibilities for our guests. This one-of-a-kind ship will provide passengers from across the globe an ultra-immersive, ultra-inspiring, ultra-exciting polar experience second to none," White added.