BSEE Hosts USCG Quarterly Meeting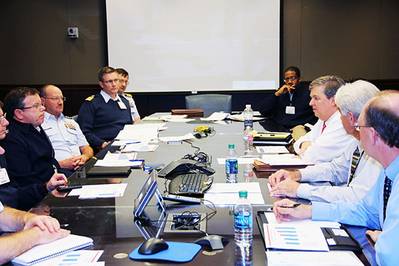 Today, representatives of BSEE's Gulf of Mexico Region hosted U.S. Coast Guard (USCG) officials in this year's first quarterly meeting at the Gulf Region Office in New Orleans.

Gulf of Mexico Region Director Lars Herbst and 8th District USCG Admiral Kevin Cook met with staff from both agencies to coordinate and discuss operational issues in the Gulf of Mexico.

The quarterly meetings were implemented under a Memorandum of Understanding between BSEE and USCG effective November 27, 2012 that is designed to promote interagency consistency in the regulation of the Outer Continental Shelf activities, facilities and units under the respective jurisdiction of BSEE and USCG. Today's meeting was the third quarterly meeting held since they began in 2013.