South Africa Ratifies Fishing Vessel Treaty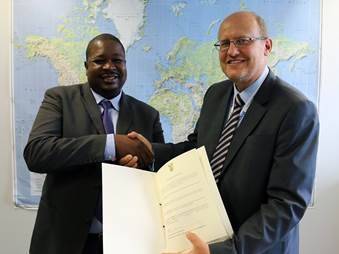 South Africa has become the seventh state to ratify the 2012 Cape Town Agreement.

The treaty, which implements the Torremolinos Protocol, covers various fishing vessel safety requirements including radio communications, life-saving appliances and arrangements, and emergency procedures, musters and drills.

Peace Kennedy, Counselor at the South African High Commission in London, presented the instrument of ratification to International Maritime Organization (IMO) Senior Legal Officer Jan De Boer at IMO's London headquarters on August 19.

The agreement will enter into force 12 months after it has been ratified by 22 states which, collectively, have 3,600 or more fishing vessels of at least 24 meters in length operating on the high seas.