Broom Boats Chooses Raymarine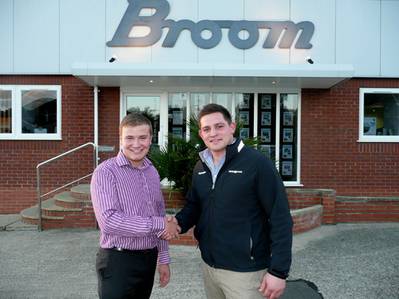 Broom Boats chooses Raymarine as preferred supplier for its extensive range of inland and offshore boats.

One of the longest established boat builders in the UK, Broom Boats, has announced it has selected Raymarine as its supplier of marine electronics, navigation, communications and safety equipment for its range of innovative, hand-crafted motor boats.


Based in Brundall in Norfolk, Broom has been building high quality coupe and aft cabin cruisers for over 100 years. Designed originally as inland boats to suit the area's extensive rivers and waterways, the company's location close to the East Coast meant that Broom Boats soon established a reputation for designing and building sea worthy boats, renowned for being safe and comfortable during long sea passages. With its range still suited for both inland use and offshore cruising, Broom Boats was looking for an equipment supplier with a range suited to all their boats, including retro-fitting onto older and smaller Broom craft.


Greg Houlston, Sales and Commercial Manager at Broom Boats says the company worked closely with Raymarine's UK Sales Manager Harry Heasman prior to signing the agreement to appoint Raymarine. New Broom Boats including the 395, 430 and top of the range 525 will be fully equipped with an integrated suite of Raymarine products. This includes the new e Series multifunction displays, with the recently launched i40 instruments being fitted as standard on most of the smaller models.


Greg Houlston says, "Raymarine's new range is highly advanced and brings some great benefits to our boat owners. The main advantage is the ease of use across all the products thanks to Raymarine's new Lighthouse interface, as well as the options to provide the right information required on board, whether being used on inland waterways or for offshore cruising. We are particularly impressed with the i40 instrument. It's ideal for even the smallest boat designed for inland waterways where only speed and depth is needed. For offshore boats, the ability of the e Series to interface with other consumer products, the use of apps, and integration with smartphones and tablets through Wi-Fi and Bluetooth, really brings marine technology into the modern age."

On the larger Broom boats, the range of Raymarine equipment offered to the boat owner will include thermal night vision cameras enabling boaters to see even in complete darkness, HD Color and SHD Color radars, sonar, VHF DSC radios, and AIS transceivers. For those wanting to use their boat for angling, Raymarine's CP450C Sonar with ClearPulseTM and CHIRP technology offers a state-of-the-art sonar module with phenomenal fish detection, clarity and depth performance.