Italian Guardia di Finanza select Raymarine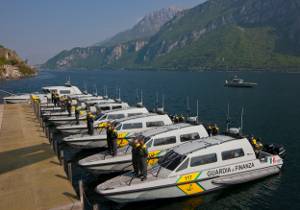 Nine new vessels designed by race boat driver and designer Fabio Buzzi and fully equipped with Raymarine electronics, have been delivered to the Guardia di Finanza, the militarized customs and border patrol service responsible for preventing financial crime and smuggling in Italy.
The nine boats were officially handed over to the Guardia di Finanza at a ceremony attended by the Italian Minister of the Interior Roberto Maroni.
FB Design utilises Fabio Buzzi's expertise to create high speed patrol boats. The sleek design with deep v hull shape and enclosed cockpit enables operating speeds of up to 58 knots. The nine boats comprise four FB38 (38 foot; 11.5 m) models with extended cockpit, four FB38 with smaller cockpit and enlarged forward deck area, and one FB43 43 foot; 13.10m). Each boat has been fitted with an integrated suite of Raymarine electronics, with a large colour multi function display showing radar, GPS, digital sonar and chart data.
Eight of the boats will be used by the Guardia di Finanza for surveillance of the major lakes in Northern Italy. The largest vessel, the FB43, is to be used for protection services at the Presidential Residence of Castelporziano, a palace located just 25 kms from Rome.
"We are proud that all these boats have been fitted with Raymarine electronics," said Alberto Monfrini of Raymarine Italia SpA. "In particular FB Design and Guardia di Finanza have chosen Raymarine for their reliability and user friendliness, considering that these boats will be used intensively and sometimes at over speeds exceeding 50 knots in their professional duties."