Navy CNO Explains Fiscal 2014 Realities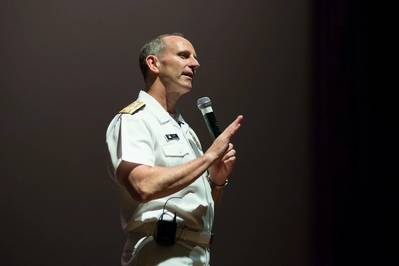 Even without the uncertainty caused by budget negotiations, it will take years for the Navy to recover from the effects of sequestration, the Chief of Naval Operations told an audience at the American Enterprise Institute in Washington Sept 5., 2013.
The Navy's budget reduction was $11 billion, the Chief of Naval Operations Adm. Jonathan W. Greenert said.

The service cancelled five ship deployments, and the reduction cut into the service's surge capacity, he added.
The reduction in fiscal 2014 is $14 billion. The service exempted military manpower from the cuts, and this would mean 14 percent reductions for all other accounts, the admiral said. Barring help from Congress in the next budget, he told the audience, the Navy will have to cancel half of its ship availability.



Shipbuilding will drop in fiscal 2014 also. "I would see the loss of a littoral combat ship, an afloat-forward staging base and advanced procurement for a Virginia-class submarine and a carrier overhaul," Greenert said. "We might lose two more - a submarine and a destroyer - if we are unable to reprogram and move money into those accounts."


"We need about a billion dollars to get into the operations and maintenance account and a billion into the procurement accounts so we can get it into shipbuilding, which will be my No. 1 priority in the Navy," he said.


Beyond fiscal 2014, Greenert said, the bywords will be forward presence, readiness of deployed forces, developing and stressing asymmetric capabilities and new technologies, and cyber capabilities. "We will reduce force structure in this plan, but we have to do it while preserving the right capacity to do one [major combat operation] in the future," he added.