Russian Navy Receives New Harbor Tugboat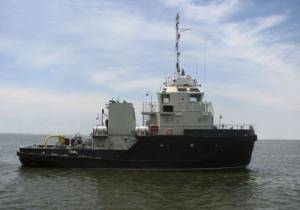 JSC Astrakhan Ship Repair Plant have built and delivered a new harbor hug to the Caspian Flotilla.

Project 705B harbor tug was deigned specially for the Caspian Sea and the estuary of the Volga River. The ship is equipped with up-to-date navigation aids GLONASS, communication and automation equipment.

Basic features of the ship is high navigability and shallow draft (0.28 meters) making possible to navigate in shallow waters of the Volga River, the Volga-Caspian Canal, and northern zones of the Caspian Sea. Two 800-shp engines make the vessel capableof towing any ship in the Caspian Flotilla.

The new tugboat is designed for towage of ships in littoral sea areas,refloating grounded vessels, pushing and mooring operations. She has a transit speed of 12 knots.

RB-259 is the third auxiliary ship built by Astrakhan Ship Repair Plant for the Caspian Flotilla. The first two, RB-39 and RB-10 were commissioned in Nov 2011 and June 2012 respectively.